The German Chancellor and Social Democrats personality Martin Schulz held overnight talks in Berlin, during which they beaten out a 28-page paper surveying their concede positions on issues including taxes, emigration and healthcare.
"Many, many hours of work, critical wrangling and moulding are contained in these 28 pages," tweeted Christian Democratic Union politician Julia Kloeckner, partial of Mrs Merkel's negotiating team.
Social Democrats orator Serkan Agci pronounced there had been a "breakthrough" concluded by party leaders but pronounced final revisions were still being finished on the request by negotiating teams, which would also need approval.
The final negotiating event between the two sides began on Thursday morning and continued by the night.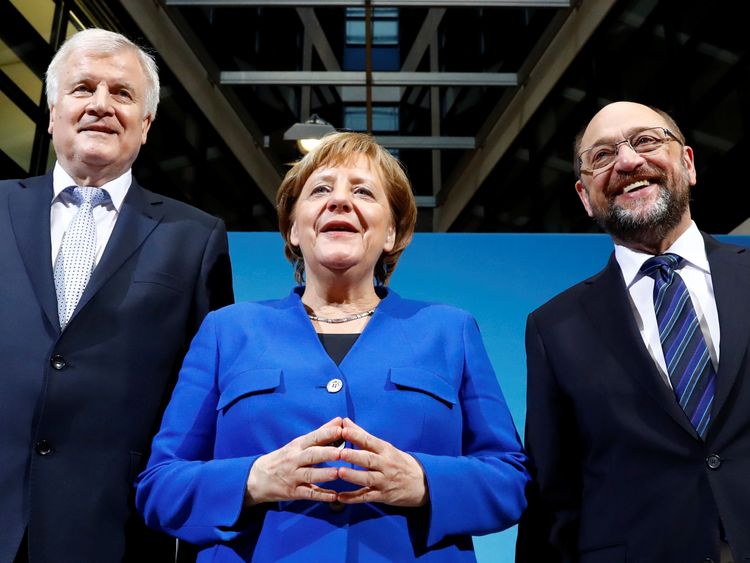 Mr Schulz described the talks as "long, tough, sparkling and turbulent", adding: "I consider we achieved an glorious result."
Meanwhile, Mrs Merkel said: "The universe is not watchful for us, we need a fresh start in Europe.
"A fresh start for Europe is also a fresh start for Germany."
The talks follow a startle ubiquitous election last Sep that unsuccessful to return a majority, leaving the Christian Democratic Union and Social Democrats with reduced opinion shares and Germany but a government.
The Social Democrats primarily vowed not to form a supervision with Mrs Merkel's conservatives, but reconsidered their position after the long-time Chancellor's attempts to form a bloc with two smaller parties collapsed.
German President Frank-Walter Steinmeier appealed to negotiators on Thursday to consider their shortcoming towards Europe, not just their own parties and domestic futures.
However, there is still a prolonged way to go before a understanding is done.
Mr Schulz will have to convince representatives at a party discussion of bloc talks and is approaching to face resistance.
Both sides then need to come to an tangible bloc agreement, which would have to be authorized in a list of the Social Democrats' whole membership.