The US President has defended his election joining to build a wall along the California-Mexico limit and went so distant as to explain on Tuesday: "If you don't have a wall system, you won't have a country".
While observation prototypes for the wall, he said: "They have a lot of problems in Mexico, they have a lot of problems over there, they have the cartels
"We're fighting the cartels and we are fighting them hard, nobody fought them like we fought them.
"If you didn't have a wall complement it would be lament we imagine."
He added: "The state of California is vagrant us to build walls in certain areas, they won't tell you that, but we pronounced no we won't do it until we build the whole wall.
"There are certain areas where they are really wanting us to build a wall since people are complaining, people are pouring in."
Mr Trump flew to San Diego to perspective several prototypes measuring 30ft-tall (9m), and asked which of them would be hardest to climb.
He remarkable the wall would have to be see-through, even nonetheless he would prefer it to be entirely concrete.
He said: "The ones that work the best aren't indispensably the many expensive, that's what we like."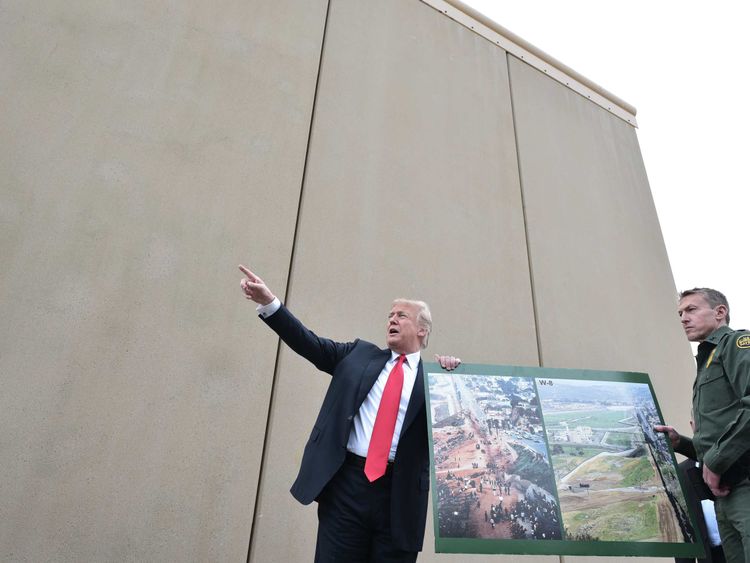 Mr Trump also criticised California administrator Jerry Brown, observant he was doing a "terrible" job. He combined that he had a "great relationship" with the Mexican President, who he pronounced was a good negotiator.
On his way to the viewing, Mr Trump tweeted: "California's refuge policies are illegal and unconstitutional and put the reserve and confidence of the whole republic at risk. Thousands of dangerous aroused rapist aliens are expelled as a outcome of refuge policies, set free to chase on trusting Americans. THIS MUST STOP!"
Speaking after at California's Marine Corps Air Station, the President suggested there could be a "space force" same to the country's air force.
He also pronounced "very shortly we're going to Mars", adding "you wouldn't even be meditative about it" if Hillary Clinton had won the 2016 presidential election.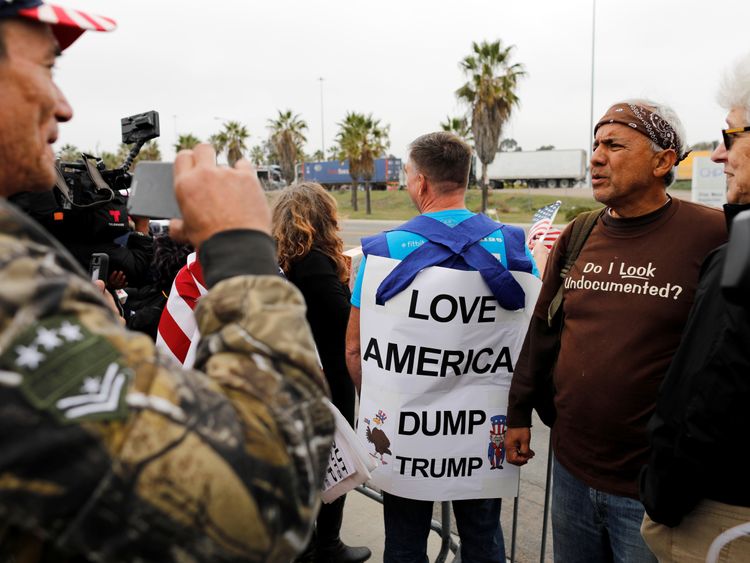 Sky News' US match Greg Milam pronounced Mr Trump's revisit came after he had "upended the news agenda" by firing Secretary of State Rex Tillerson.
He said: "[The President] actually tweeted on the craft that this wall would compensate for itself by slicing crime – well, he's not got Congress or Mexico nonetheless to compensate for it so it competence be accessible if it pays for itself.
"But he believes that whatever wall they select needs to be see-through, he says. He believes people will mount the other side throwing drugs over and if you can't see that, it's dangerous.
"He's coming to a place that he hasn't visited as president, where he is massively unpopular, where he lost by 4m votes in the election and a place where he faces outrageous resistance. But he thinks his core still believes in that wall and still wants it."