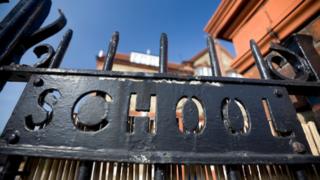 A new Conservative supervision would leave schools in England worse off financially than they now are, the Institute for Fiscal Studies says.
The Tories have betrothed £4bn additional but this equates to a £1bn arise in genuine terms, the eccentric consider tank says.
When flourishing student numbers are taken into account, investment per student will tumble 2.8% by 2022, the IFS says.
Labour has affianced to boost spending per student by 6% over the march of the next Parliament.
The IFS says this would need an boost of around £4.8bn in genuine terms or 2017-18 prices.
The Liberal Democrats' plans strengthen per student spending over the march of the Parliament in genuine terms at the benefaction turn (for 2017-18).
This would need £2.2bn additional investment.
Presently, the schools bill is £40bn a year.
'Historic high'
Luke Sibieta, associate executive at the IFS, said: ""The commitments done by any of the categorical parties would indicate utterly opposite paths for school spending in the next Parliament.
"Labour would boost spending per student by around 6% after acceleration over the march of the Parliament, holding it to just above its prior ancestral high in 2015.
"Proposals from the Conservatives would lead to a nearby 3% genuine terms tumble in spending per student over the Parliament, holding it back to its 2010 level."
The research of the title total comes as relatives are scheming to hold events in opposite areas of England to prominence the cash predicament confronting schools.
The IFS has formerly pronounced schools are now confronting the first genuine terms cut for 20 years.
Head teachers have been angry of the tough decisions they have had to make about staffing and resources.