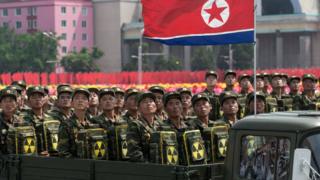 During the Cold War, nuclear strategists frequently asked "how much is enough" to pledge anticipation and the confidence of the nation. Planners in Pyongyang may be asking the same doubt now.
After all, Wednesday's thespian launch by North Korea of its new Hwasong-15 long-range barb is, in the eyes of some analysts, able of distinguished as distant afield as Washington or New York.
After 6 nuclear tests given 2006 and some-more than 20 barb launches in 2017, could the North have reached a indicate where its military advances give it a de facto nuclear hindrance convincing adequate to daunt the US from ever aggressive North Korea?
The doubt is not an educational one.
If Pyongyang feels secure – and the North's leaders have customarily claimed that their nuclear and other Weapons of Mass Destruction (WMD) resources are quite for defensive functions – then presumably Kim Jong-un can negotiate from a position of strength with the US to secure a decrease of mercantile and domestic sanctions.
Such talks would concede Mr Kim to realize his twin vital priorities: military modernisation and tolerable mercantile expansion – in the routine bolstering his care legitimacy in the eyes of his people.
A preface to offer testing
Official North Korean news statements concomitant the barb launch advise that the latest launch is the perfection of a long-term technological idea – in the difference of Kim Jong-un it was "a poignant day when the ancestral means of completing the state nuclear force, the means of building a rocket energy was realised".
Yet, the test – another acknowledgment of the North's augmenting technical sophistication – is many likely a preface to offer testing.
What repairs could North Korea do?
Are missiles a risk to planes?
Can the universe live with a nuclear North Korea?
North Korea's barb programme
While the US and its allies worry that the North is inching closer to the date when it can put a nuclear warhead on an intercontinental ballistic barb (ICBM) and broach it with a magnitude of correctness against a US city, the justification suggests that the North is at slightest months or presumably a year or two divided from reaching this goal.
It will, therefore, need to test identical long-range missiles to labour its strike capacity, including building the targeting, and heat-resistant, re-entry capabilities indispensable to pledge a suggestive deterrent.
Keep in mind that contrast military hardware has functions over merely bolstering deterrence. It is a way of showing strength and facing vigour from one's enemies.
North Korean officials frequently indicate out the need not to seem diseased in the face of outmost provocation, generally from Pyongyang's ancestral adversary, the United States.
David and Goliath myth
President Trump's "fire and fury" warning that he may feel compelled to totally destroy" North Korea, his belittling of "rocket man" Kim Jong-un, tighter US and general sanctions, and the latest decision by Trump to re-list North Korea as a state unite of terrorism are all justification in Pyongyang's eyes of antagonistic intent.
To President Trump, his tough denunciation may seem like a intelligent negotiating tactic, putting vigour on both the North and on China to finish the stream deadlock, but it is woefully myopic and uninspired not to consider how the actions may be seen from the North's perspective.
One comparison North Korean unfamiliar process central has characterised Trump as "crazy… a finish thug… just a pitiable man and a scattermouth".
In this context, and with the North's elaborate promotion machine at home mobilised single-mindedly in gearing up its race for a impending fight with the South, there seems very little reason for the North to refrain from offer tests.
More tests strengthen solve at home and denote the country's ability to mount up to the US.
Pyongyang's account of insurgency against the US imperialist is a simple, if not uncomplicated (and at heart disingenuous) re-telling of the David and Goliath parable in which the North is decorated as a heroic and volatile tiny state station up to an general bully.
Trump's drifting tweets and open boast only offer to accelerate this narrative.
Tipping the balance
For now, there are no signs that the North wishes to rivet in concrete discourse with the US; nor has it shown any eagerness to respond to the freeze-for-freeze beginning due by both China and Russia in which the North would postpone contrast in return for a hindrance to US-South Korean corner military exercises.
The segment can take some, very limited, comfort from signs of prejudiced patience by Pyongyang. The latest test is the first given 15 Sep and marks therefore the finish of almost two and a half months of relations still on the peninsula.
There appears too to be a process and conformity in Kim's approach. He has, so far, refrained from red-line channel provocations, such as barb launches at Guam or Hawaii.
But how prolonged will this last?
An windy nuclear test stays a possibility, and there are other low-level provocations such as a cyber attack on US and South Korean authority and control capabilities, or a nautical strife around the Northern Limit Line to the west of the peninsula, that competence prompt a proportional but unambiguously tough US and South Korean counter-action.
This in spin could be misread by the North as the preface to some-more concrete military movement and worsen the risk of low-level dispute sharpening into something much bigger and jointly destructive.
In these situations, as in testing, the doubt of sufficiency stays paramount.
What one side sees as the smallest to strengthen its interests and a cautionary warning to its opponent, the other can simply perspective as a step too distant and a counsel provocation.
Such actions may be adequate to tip the change all too simply divided from fortitude and predictability into doubt and escalation with potentially inauspicious consequences.
Dr John Nilsson-Wright is a Senior Research Fellow for Northeast Asia, Asia Programme, Chatham House and Senior Lecturer in Japanese Politics and the International Relations of East Asia, University of Cambridge.