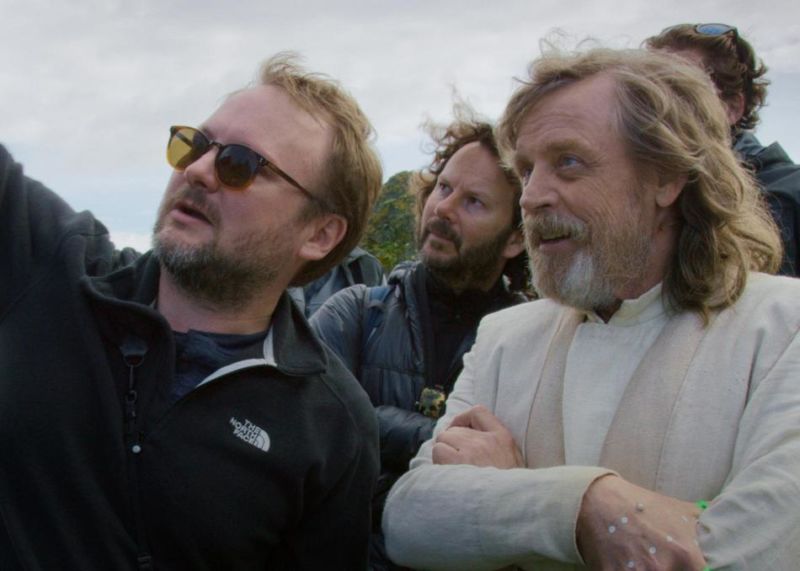 AUSTIN, Texas—It may come with resources you can't find anywhere else, but helming a Star Wars film is no walk in the park. To start, it involves sky-high expectations, continent-spanning prolongation schedules, and maybe unequaled levels of fan mania (including probable Russian social accounts lobbying for General Hux to live, seriously). The House of Mouse now also looms over everything, essentially demanding a certain box bureau bottom line.
That's a daunting charge for even the many determined of Hollywood creators—but it's generally herculean for a comparatively different filmmaker. And that evidently finished Rian Johnson's intergalactic entrance with The Last Jedi the ideal event for a full-length behind-the-scenes documentary, The Director and the Jedi.
"I'm the newbie—every dialect conduct has finished a film of this distance before," Johnson says as he sets the stakes early in the film. "[Producer] Ram [Bergman] and we are the outsiders who have infiltrated. With every decision, I'm laying down my chips in front of these good poker players and guileless just a little chill in my stomach. It's terrifying."
Johnson, Bergman, Mark Hamill, and documentarian Anthony Wonkie came to the South by Southwest discussion to benefaction the star premiere of this rare demeanour at the Lucasfilm methods. And during the post-screening QA, Johnson told the throng he was desirous to determine to it due to his own childhood fandoms. "There was an extraordinary [Return of the] Jedi thing about the quadruped work on Jabba's palace, and that had a good impact on me," he said. "And the doc on Magnolia, the Paul Thomas Anderson film… we venerate docs that really get you into the routine rather than constrained the finish result."
The Director and The Jedi substantially won't be technically tasty adequate to likewise enthuse the next epoch of blockbuster filmmakers—it runs for roughly one hour and 45 minutes, but the film jumps between many topics. And nonetheless we get glimpses of life with the costuming, stunt, prolongation design, VFX, and quadruped departments, this new documentary has other stories in mind.
Among them: the range of a prolongation like this must be seen to believe—120 sets, 100-plus days of filming, but budgets that can't utterly fit every singular preferred drone and UNESCO birthright site set plcae ("Take Rogue One and The Force Awakens, put 'em together, this is double in size," says quadruped administrator Neal Scanlan). Newcomers like Johnson and Bergman or Kelly Marie Tran (Rose) have entered into this sacred and determined star with unusual ideas (a casino in Star Wars?!) for the franchise's traditionalists. And as the pretension may imply, the energetic between the new creator and the old star has its own heroes' tour to swell by before opening night.
The documentary competence have been better served by selecting the many constrained of those subplots, modifying down closer to the hour mark, and progressing a narrower but deeper focus. Ultimately it does the opposite. Still, this new documentary does have consequence over opening up new selling and income opportunities for Lucasfilm. In particular, somehow this film about the new epoch of Star Wars feels like a wise send-off for the series' pioneers.
An older prolongation years, years away
There aren't many franchises around where the executive characters (and the actors behind them) still attend over small cameos some 40 years after debut. But it's nonetheless another singular aspect that creates a Star Wars film a big ask of any director. Take Hamill as evidence. "When we called, we said, 'I'll do it [the new trilogy], and we have two requests," the actor removed during the QA. "I don't wish a cameo, and we wish a genuine trilogy role."
Even nonetheless Harrison Ford is apparently not involved, The Director and The Jedi acts as a good sequel farewell to many of the strange Star Wars icons. The film reveals that some-more than 100 people auditioned for the voice of C3PO in the new trilogy, for instance, but nothing felt right and so Anthony Daniels came out of retirement. And while many of the VFX folks expected Yoda would be finished around CGI this go-round, the tragedy required in that character's Last Jedi reunion with Luke Skywalker meant coaxing Frank Oz back to set. The puppet itself may have been new, but the ILM group even combined this chronicle by first appropriation the strange wooden indication molds and building from there.
Kathleen Kennedy appears on screen a handful of times, too. And nonetheless we never see him, George Lucas' participation is positively felt. Early on, we see the commencement stages of book trials as Johnson invites Hamill and Daisy Ridley to review in a vital room at Pinewood Studios. Later in that very sequence, someone breaks into the room with a summary for the new director.
"Well, George Lucas…"

"Heard of him," Johnson interjects.

"He'd like to speak tonight. No pressure. I'll tell him 8:30."
Some of the best tools of The Director and The Jedi come from Johnson exploring the old Star Wars star as if he were merely a child in a candyst… err, as if he's a child on the set of a freakin' Star Wars shoot. When he meets Oz, Johnson asks to try on the Yoda puppet and lets out what we learn is his signature hee-haw of joy. When he sees the new creatures Neal Scanlan and group bring to life, Johnson can't censor his enthusiasm, either. Given that he grew up with some of these films, it's no consternation the executive came prepared with as tangible opinions on sea cow bellies as he does Kylo Ren's injure makeup.
"When you're a little kid, the Jedi, and the parable of the Clone Wars, and the mysticism of Yoda—that connects to something within you," Johnson told the SXSW audience. "That creates it frightful coming into this, but we can't suppose [making a film] but that—if you don't take the Force, the Jedi, and Luke Skywalker seriously, then what's the next step in this?"
Perhaps Johnson's bend for the authorization comes opposite best in this documentary's many human scenes. It's maybe no warn to any longtime Star Wars fans that the many genuine on-screen tragedy happens when Carrie Fisher and Mark Hamill get involved. On the tragedy front, Hamill's primarily blunt disappointment with The Last Jedi's new instruction for Luke may be the only genuine dispute within the whole documentary. "My impression always represented wish and optimism, and here we am desperate and artificial and arrange of demoralized," Hamill says. "I told him, 'I essentially remonstrate with this judgment and how you use this character, but I'll do all in my appetite to perform your vision.' This impression doesn't go to me, they just let me lease him out. So no matter how it comes out, if it's wonderful, it's since of him. If I'm horrible, it's also his fault."
(The infancy of the post-show QA stayed on the attribute between Hamill and Johnson, given that the documentary leaves audiences wanting some-more of that dynamic. The many new film's pretension literally comes from Johnson's new Luke Skywalker direction, after all, and one of the best moments in this doc comes when the executive reveals his pretension thought to Hamill for the first time.)
As delicately curated as you'd design this Disney-approved documentary to be, Carrie Fisher both shares and elicits what seems like the doc's few truly moving moments. We see her interacting with Ridley and Laura Dern, younger actors coming Fisher with bend both on and off screen. And moments after when the first lady of this authorization is asked how Johnson is wise into the director's chair and doing the canon, she doesn't demur to peep the celebrity fans have grown to adore. "He's an asshole," she quips, prepping the judicious enrich to come. "Rian has a very specific vision, but he's not like that when you first meet him. He doesn't have a winning effect, he has a winning vision." The off camera mechanics behind The Last Jedi's Leia-Luke reunion are after explored, speaking to that Johnson prophesy that combines bend with new energy. It was the sole documentary moment where it felt like the whole assembly silently held themselves welling up.
"The film wasn't meant as a goodbye," Johnson notes. "But hopefully there are a lot of scenes that will give people… scenes that will feel good to see."
For doctrinaire fans of the Star Wars franchise, The Last Jedi, or Johnson's work in particular, The Director and The Jedi qualifies as must-see. You may not get all the routine you want, but you'll leave with a clarity of Johnson's persona behind the camera and his sold proceed to the singular plea presented to him with The Last Jedi.
For everybody else, you'll substantially enjoy the experience, too—just know you'll likely peek at your phone or second screen a few times. The Last Jedi this is not. But it's some-more than that film's Blu-ray extras, too.
The Director and The Jedi is set for far-reaching recover on Jun 27… naturally, as a behind-the-scenes featurette on the Last Jedi video release. No information on additional screenings is accessible at this time.